[ Homepage ] [ Introduction ] [ Warning ] [ Ratings ] [ Ethics ] [ Feedback ] [ Updates ]
---
Super Amazing Map
Version 17.0
This map was created by Bob Allan and is intended to provide the approximate locations of canyoneering adventures. Before attempting any of these canyons it is recommended that you obtain detailed information about the route. Information on many of these adventures can be found right here on Climb-Utah.com. Most of the mapped locations are considered technical canyoneering routes that require specialized skills. The KMZ file is a downloadable map that can be installed directly to Google Earth.
Download the map by clicking the button below.

Additions and Corrections:
If you would like to make an addition or correction to the map please post your suggestions in the Bogley Super Amazing Map thread. Suggestions will then be deemed worthy or not. Please provide the GPS location in degrees, minutes, seconds (DD, MM, SS) format. Please do not send emails to Climb-Utah.com as we only host the map and do not maintain it. This map will be updated periodically.
Google Earth:
Climb-Utah.com has started to add Google Earth KMZ files to many of our routes. Google Earth is one of the most advanced mapping programs available and allows you to download our GPS waypoints into most mapping software. Explore what the program is capable of and download Google Earth for free.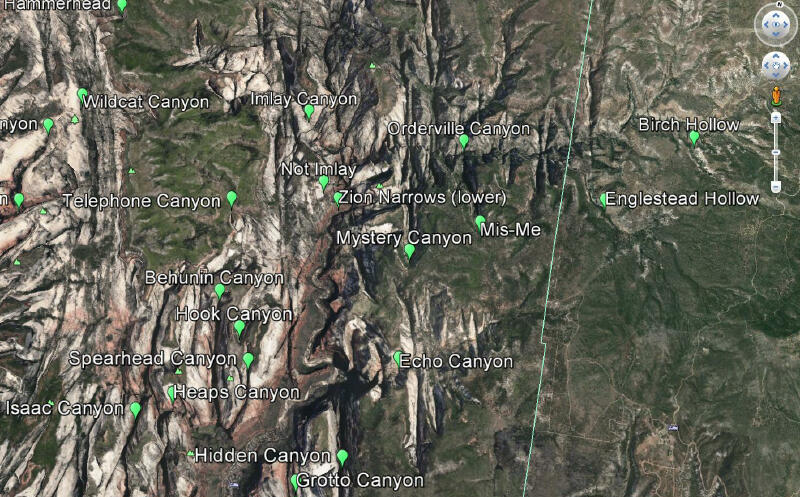 ---
[ Homepage ] [ Introduction ] [ Warning ] [ Ratings ] [ Ethics ] [ Feedback ] [ Updates ]
© Copyright 2000-, Climb-Utah.com