[ Homepage ] [ Introduction ] [ Warning ] [ Ratings ] [ Ethics ] [ Feedback ] [ Updates ]
---
Warning
Canyoneering & Mountaineering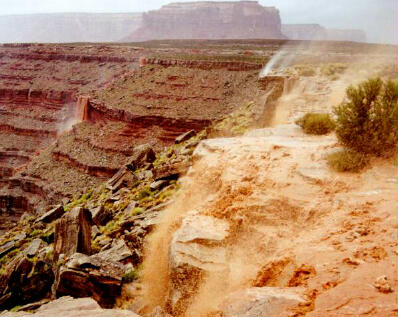 We cannot protect you:
The adventures described on this website can be dangerous or life threatening. We are not responsible for your safety. The information provided herein is intended for historical reading and entertainment only. Nature and the outdoors are hazardous. If you are looking for a thrill without personal danger we suggest visiting Disneyland. Risk cannot be eliminated. This website is not an instruction manual, nor should it take the place of commonsense. The information offered on this website can kill you. Real people have actually died doing some of these adventures.

We have personally done every adventure, hike, route and canyon described in this guide. The information listed is the conditions we found on the day we did the adventure, conditions in the outdoors change, use caution and go prepared. To the best of our knowledge, the information provided in this guide is accurate. However, we have no way of checking the precision of any of the routes listed. Choose an adventure with a rating, which corresponds to your abilities.

Your Responsibilities:


The freedom of traveling in a natural environment requires judgment and responsibility from each individual. Every adventurer is personally responsible for being physically fit for the intended adventure; for having proper equipment, clothing, water, food, map, skills, training and commonsense. You are responsible for evaluating the route conditions and weather; and for protecting the environment and the rights of others.

Leave a detailed itinerary (including backup plan) with a responsible adult before embarking on any outdoor adventure. Provide this person with expected arrival times and a deadline of when they should contact Search and Rescue. Your emergency contact should be provided a route description or map and emergency contact phone numbers. You should also provide vehicle descriptions and vehicle license plate numbers. Vehicles are often easy to locate and provide a base from which to begin a search.

Flash Flood:


Flash Floods are a serious hazard on the Colorado Plateau. The month with the heaviest precipitation on the Colorado Plateau is August. The driest month is June. The monsoon season begins in mid-July and continues through mid-September. However, since this is an arid or semi-arid desert area, the monsoon season here isn't the same as the rainy season in the tropics. There are many sunny dry days, even in August. But when heavy rains come, they can turn a dry canyon into a raging torrent. Use caution at all times.
Avalanche:


Utah backcountry has a high avalanche danger. If your outdoor experience includes venturing into snow covered regions, check with the Utah Avalanche Center for current conditions.

Avalanches occur most frequently on slopes ranging from 30 to 40 degrees. To give you some idea of what this means consider at ski areas, intermediate slopes are about 30 degrees, expert or black diamond runs are about 35 degrees and double black diamond runs are 40 degrees.

To determine avalanche potential, you can attend classes, read books and learn from experienced backcountry guides.
---
[ Homepage ] [ Introduction ] [ Warning ] [ Ratings ] [ Ethics ] [ Feedback ] [ Updates ]
© Copyright 1998-, Climb-Utah.com